The rise of the robo-advisor represents one of the most profound shifts in FinTech. Their growth is mainly due to the fact that they have been able to reach a wide swath of the public that doesn't have access to traditional consulting for economic reasons, bridging this gap. In the article, we will look at the main reasons for their success to understand what the future of this tool will be.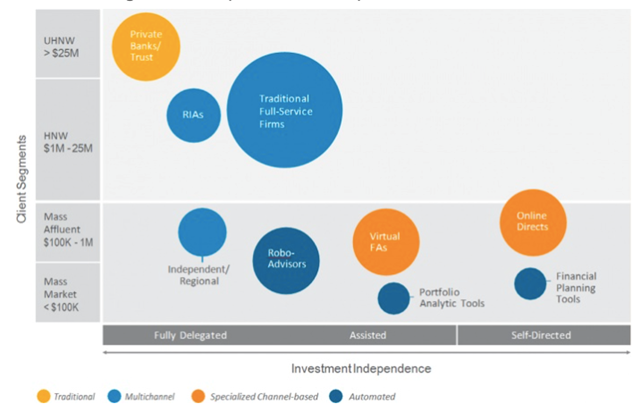 What is a robo advisor?
The terminology "robo advisor" is quite journalistic: they are not always robotic, nor do they always provide advice.
Robo advisors are automated investment solutions which provide automated portfolio rebalancing using trading algorithms based on passive investments and diversification strategies, which engage individuals with digital tools featuring advanced customer experience, to guide them through a self-assessment process and shape their investment behaviour towards rudimentary goal-based decision-making.
The robo advisor can also manage that portfolio without the need for a human to ever intervene. And some robo advisors do operate in this standalone manner, but there are other types on the market, as well. Hybrid robo advisors combine this automated investment solution with human input to create a more balanced approach.
According to projections from BI Intelligence, automated financial advisor apps and services will manage approximately 10% of all global assets under management (AUM) by 2020.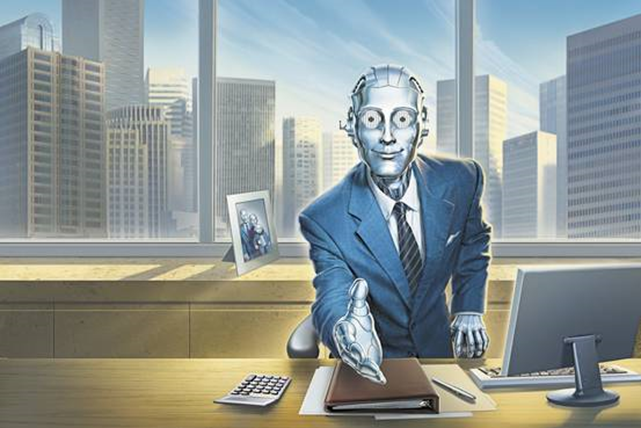 "The terminology "robo advisor" is quite journalistic: they are not always robotic, nor do they always provide advice"
Robo-advisor vs. Traditional Financial Advisor?
In most cases, companies can offer these robo advisor platforms with much lower fees than traditional human advisors yet still maintain approximately the same return on investment. This allows these companies to market themselves to a much larger segment of the market, such as millennials who might be hesitant to put their trust and their dollars into a human advisor's hands.
Furthermore, robo advisors typically automate the "housekeeping" portion of the investment process, such as application processing. This removes some friction for consumers and also helps companies reduce their labor costs, which in turn translates into savings for customers.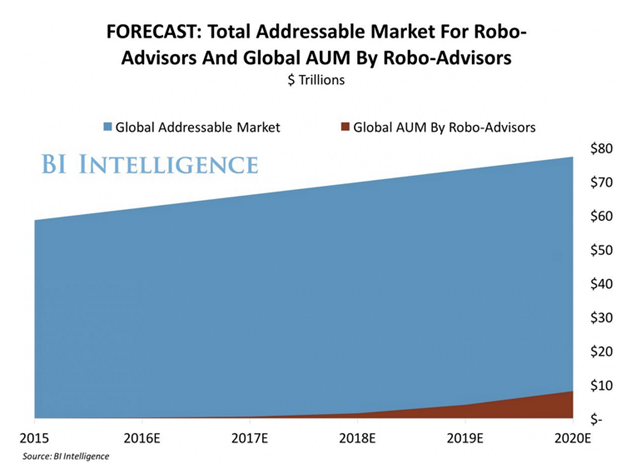 Pc versus Mobile
Mobile has exploded in terms of time spend in almost all areas of technology. It's no different with financial technology and robo advisors. Mobile apps have made it far more convenient for investors to check their account balance and make whatever moves they deem necessary.
Vanguard robo advisor, for example, employs financial advisors with their product. Betterment's app allows you to access your account and check your balance and investment returns. You can also connect your checking account to the app and, with the iOS version, make deposits and withdrawals. Wealthfront's app, by contrast, allows you to track your investments and open an account, but customers must perform all other functions on the website. Personal Capital's app lets you use it even if you aren't a customer. It even lets you monitor all of your investments in one place, even those not a part of Personal Capital. SigFig offers a similar service through its app.
And Charles Schwab allows customers to trade, cancel orders, and more.
As robo advisors continue to grow in popularity, smartphones will become more critical in helping customers manage their investments.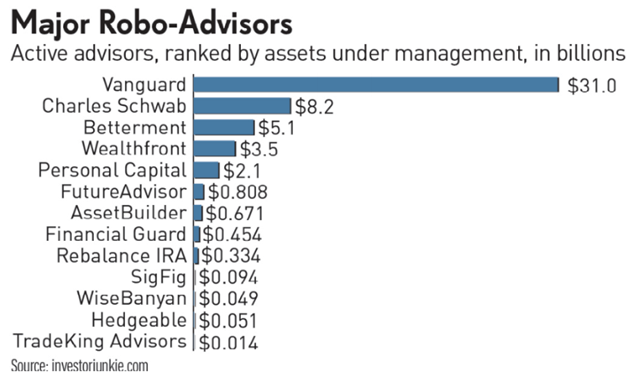 "Is Robo technology truly disruptive?"
Robo advisors possess all the elements to be a disruptive technology. However, we are just at the beginning. The future of robo advisors will always offer a solution that is half human and half machine.
So as to not be caught unprepared, traditional wealth managers are deploying robo technologies and a new category of "robo-advisory hybrid" is emerging. Soon, it may be difficult to distinguish between robo assets under management and the rest. Nevertheless, robo advisors will be able to be defined as a disruptive technology only when artificial intelligence reaches a level so as to be able to completely replace the human component.
"Robo advisors possess all the elements to be a disruptive technology"
Notes
The FinTech Book – Susanne Chisti, Janos Barberis
How Will Robo-Advisors Impact the Future of Investing?
http://etfdb.com/etf-education/how-will-robo-advisors-impact-the-future-investing/
The Rise of Robo-Advice – Accenture
https://www.accenture.com/_acnmedia/PDF-2/Accenture-Wealth-Management-Rise-of-Robo-Advice.pdf
Robo Advisors: Online Financial Advisors That Fit in Your Pocket
http://www.businessinsider.com/robo-advisors-online-financial-advisors-automated-investing-2017-1?IR=T
Breaking Banks – Brett King
Is robo investing better than traditional investing? See the pros and cons
http://www.businessinsider.com/4-reasons-robo-investing-growing-2017-1
Is robo investing right for you? Here are the 5 people who are likely to use them
http://www.businessinsider.com/5-types-of-people-who-use-robo-advisors-2017-1
7 Best Robo-Advisors for Client Transparency
http://www.investopedia.com/articles/personal-finance/012616/7-best-roboadvisors-client-transparency.asp
Millennials and robo-advisors: A match made in heaven?
http://www.cnbc.com/2015/06/21/millennials-and-robo-advisors-a-match-made-in-heaven.html
WRITTEN BY
Vittorio Volpi